E-MOBILITY SYSTEM SOLUTIONS FROM A SINGLE SOURCEPV surplus and load management
From the main distributor via the wallbox to the charging cable: EVtap® includes all components required for charging electric vehicles.
Powerful
EVtap® system components ensure single- or three-phase AC fast charging up to 22 kW.
Compatible
EVtap® system components are compatible with most car makes and applications.
Configurable
EVtap® system components are available in many versions and can be individually configured.
Convenient
EVtap® system components can be controlled conveniently and easily via the EVtap® Connect App.
EVtap® Charging stationfor electric vehicles
EVtap® charging stations are at the heart of our electric vehicle systems. Thanks to the wide range of charging capacity options available, our EVtap® wallboxes are compatible with almost every electric car model available.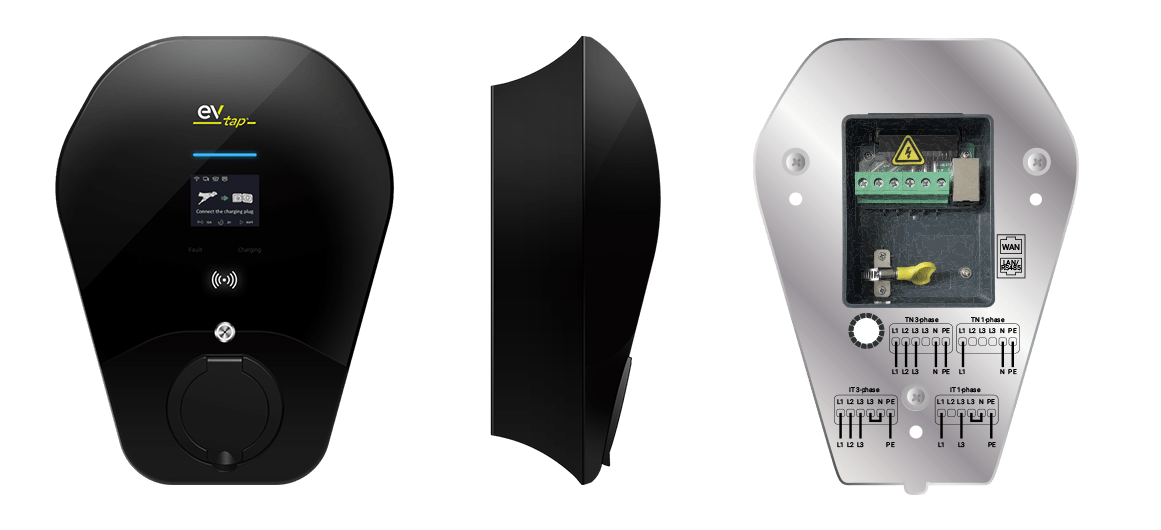 Attractive complete package
High-performance components and high-quality design surfaces make our EVtap® charging stations a popular charging solution in the private and public sector.
Safety features
Integrated temperature monitoring, voltage fluctuation protection and DC fault current detection ensure that your battery is comprehensively protected for optimal use.
App control
With the EVSE Master App, you can conveniently control your charging with your smartphone, evaluate your charging history or configure charging power.
Nationwide funding
With the new KfW funding initiative "Charging stations for electric cars - residential buildings (440)", you can secure funding of € 900 for your private charging station.
download data sheet as PDF
A charging cable as an OEM product?No problem!
OTHER PRODUCTS
EaseeCHARGING STATIONS
In addition to EVtap wallboxes, we also offer charging stations from our partner Easee. These sustainably developed charging solutions for the public and private sector are characterised by their compact dimensions and low weight.